Pharmacies will NOT BUY masks anymore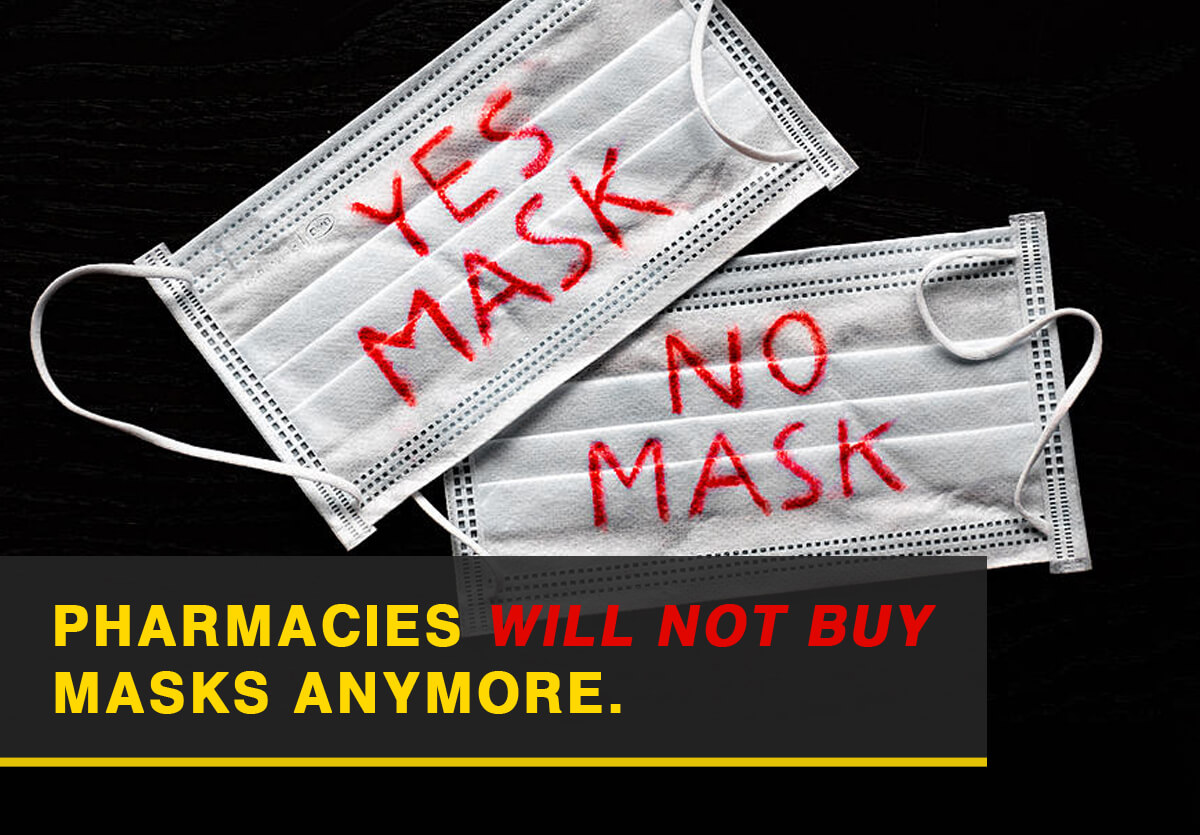 Most FFP2 face masks on the market do not comply with the standards laid down in Regulation (EU) 2016/425 on personal protective equipment (Castaldo, F. S. M. P., Parliament Anti-Corruption Intergroup, 2022).
According to the experts, around 80% of the European market of PPE (Personal Protection Equipment) consists of counterfeit respirators and surgical masks supported by poor or false certifications.
The flood of fake and poorly made masks threatens public health because they give people a false sense of security, increasing the likelihood that someone might be exposed to the virus while attending class, a music concert, or traveling by plane (A. Jacobs, 2021). A rising number of claims against counterfeit masks suppliers are taking place all over the European Union, UK, and United States. The questions of false PPE (Personal Protection Equipment) are still in discussion in European Parliament.
Suppliers of counterfeit do not allow the consumers to choose the safe product, actively promoting fake masks to e-commerce platforms, selling to pharmacies, and even participating in tender and procurement for hospitals in European Union with their fake products.
Being a regular customer or wholesaler, you must protect yourself to avoid purchasing illegal fake respirators and sponsoring criminals.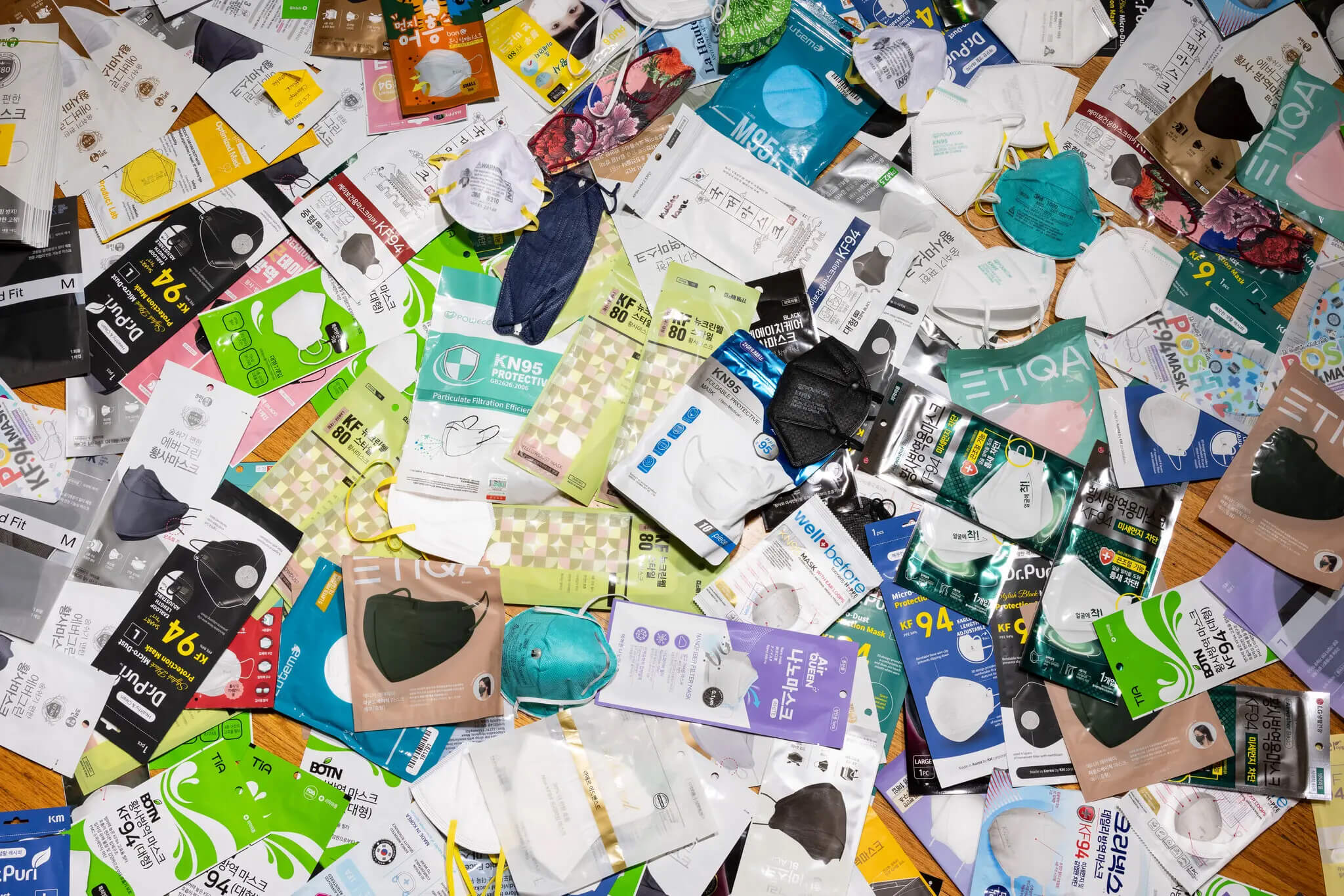 The following guide prepared by Baltic Masks' experts will help you purchase only certified safe PPE (Personal Protection Equipment), such as masks and respirators. That is your right to ask a supplier for the following documentation:
1. EU type-examination certificates Modules B and C;
2. Eurofins' laboratory certificate;
3. OEKO TEX certifications of all the materials that are in use in production, also Latex-free certification;
4. Test report.
The certificates must have original numbers or QR codes that can be easily checked on the internet for their originality. Moreover, the proofs have an expiration period. That is illegal to supply to hospitals or pharmacies expired medical devices. Sometimes shady suppliers are providing scans of the certificates or documents for a different model of a mask or just faked documents.

Being on the market for more than three years, Baltic Masks experts were constantly monitoring and testing masks and respirators from all over the World. For example, one Turkish masks producer was asked to provide documentation for children's blue type IIR mask "Model X." Still, the proof that he sent to a potential buyer was a scan of the certificate for his "Model Y" black color and adult size. There are cases when a Lithuanian wholesaler purchasing a pallet of FFP2 NR respirators from China or Vietnam supporting will all the documents. Then Baltic Masks' laboratory tests show that the test report that was provided by foreign producers has been faked, and respirators do not comply FFP2 standard of quality and can harm the health of a consumer.

If you are trading in PPE (Personal Protection Equipment) market with type IIR masks or respirators, and you are not sure about the quality of your product, you can ask for a FREE, fully confidential test of your samples. All tests are done in Baltic Masks' laboratory in Vilnius (Lithuania) confidentially and for free.

Baltic Masks. (2021, May 22)
The requests for testing your FFP2, FFP3 respirator, or medical mask should be sent to the following e-mail address:
[email protected]
Take care of your health and protect yourself only with the certified safe product!
Angelucci, M. (2021, March 3). Mascherine Ffp2 «non a norma», indaga l'Antifrode Ue. Corriere della Sera.
https://www.corriere.it/cronache/21_marzo_03/mascherine-ffp2-difettose-indaga-l-antifrode-dell-unione-europea-2e725eee-7bf4-11eb-bc48-454efd4893c8.shtml
Baltic Masks. (2021, May 22). Baltic Masks - x3 times better breathability [Video]. YouTube.
https://www.youtube.com/watch?v=cbOUXO8Nu9k
Castaldo, F. S. M. P. (2022, May 11). Parliamentary statement | FFP2 face masks: CE 2163 certification – certification procedures and conformity checks | E-002510/2022 | European Parliament. © European Union, 2022 - Source: European Parliament.
https://www.europarl.europa.eu/doceo/document/E-9-2022-002510_EN.html
Finney, M. (2022, January 13). As schools require or recommend N95 masks, consumers have to figure out if masks selling online are fake. ABC7 San Francisco. https://abc7news.com/fake-n95-masks-face-omicron-coronavirus/11459343/ Jacobs, A. (2021, December 1). Counterfeit Covid Masks Are Still Sold Everywhere. The New York Times.
https://www.nytimes.com/2021/11/30/health/covid-masks-counterfeit-fake.html


EXPERIENCE AND SUPPLIERS
During more than 20 years of cooperation with the Far Eastern market and the organization of the supply of goods in the Baltic States, we have accumulated many years of experience. Experience allow us to guarantee reliability and security for our customers. We are happy to supply customers with high quality products. We manufacture goods or import them directly from the manufacturer, so we always offer products at the lowest price on the market.
LOGISTICS
In order to shorten the supply time of receipt products, we work with the strongest market leaders in this field, whose quality of service and work has never disappointed us. Cooperation based on trust and teamwork is a guarantee of quality. Together, we pursue a common goal - to supply and transport goods at the lowest market price.